Competitor Table
| FEATURES | | |
| --- | --- | --- |
| Sed nam facilisis | Habitasse tincidunt parturient | Erat ornare lacus |
Sed nam facilisis
Habitasse tincidunt parturient
Erat ornare lacus
easy to set up, easy to admin
Virtual call center
Allow your agents and supervisors to work from anywhere. With Dialpad Contact Center, you can get set up quickly and start engaging with customers and prospects on a single platform. Book a product tour to see how it works!
If you have a distributed team of agents or reps who regularly need to communicate with customers, employees, prospects, then you probably need a virtual contact center or virtual call center.
Dialpad's all-in-one communication and CCaaS tools help contact center teams not only improve their service levels and customer satisfaction, but also coach and train new hires more efficiently. How? Keep reading.

What is a virtual contact center?
Unlike a traditional call center, virtual contact centers (sometimes also called remote call centers) typically consist of service agents who work remotely in different office locations or work from home.

Quick note:
Some folks may still refer to "contact centers" as "call centers" but that term is used less and less now that calling isn't the only channel anymore). There's also "CCaaS," or Contact Center as a Service, which refers to the subscription-model contact center software that's becoming more popular.
Almost always, these contact center teams will need the help of virtual contact center or call center software (and a stable Internet connection) in order to operate from the cloud.
Essential virtual contact center features
With Dialpad, you get not only a CCaaS solution, but also a business essential: a UCaaS (unified communications as a service) platform with a built-in VoIP phone system that integrates with tools like Zendesk, Intercom, and Salesforce.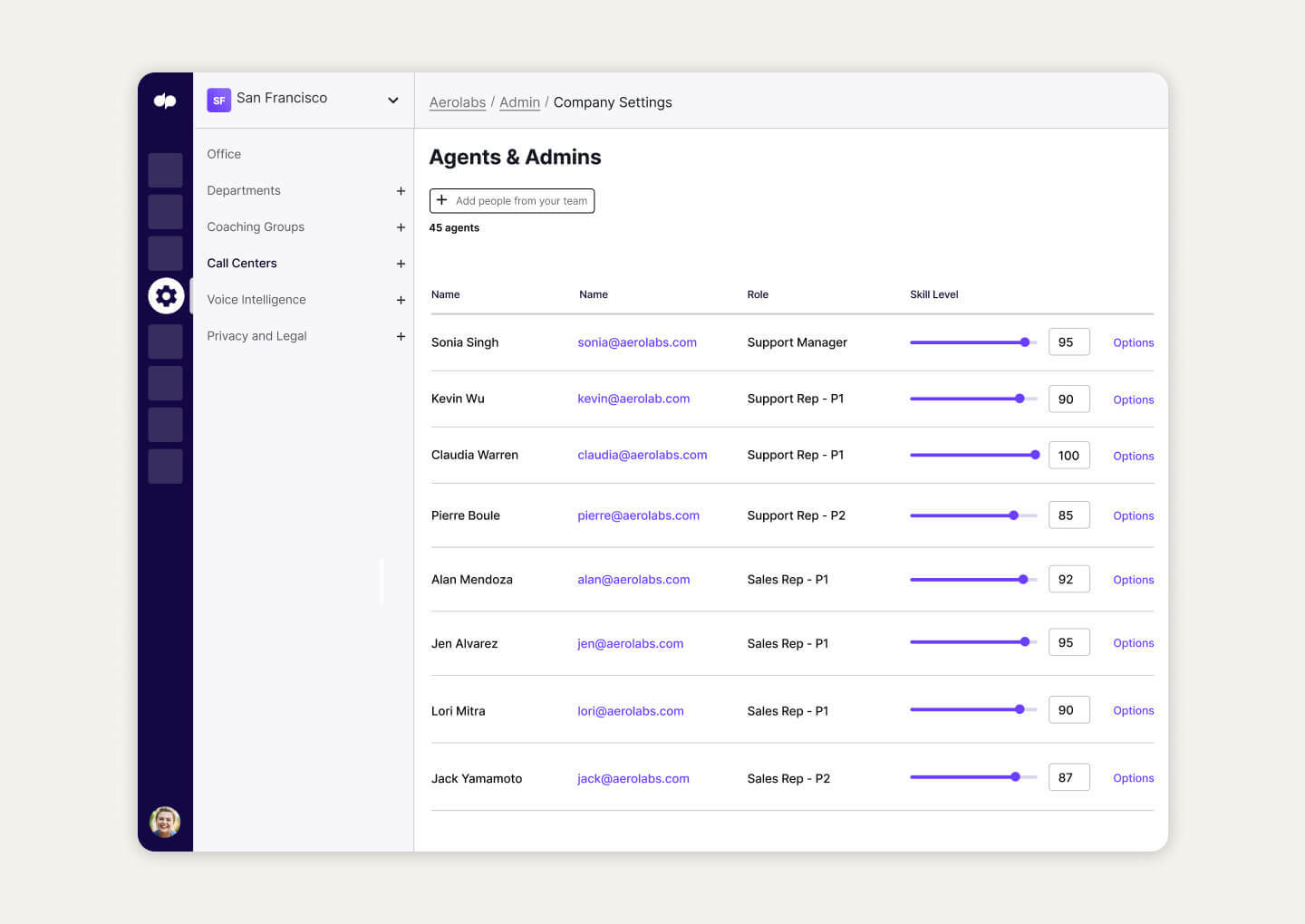 Fast deployment
Set up your virtual contact center teams and assign phone numbers—all in on your online account, without purchasing hardware. Dialpad works across your existing devices and allows you to manage your own contact center easily (and efficiently).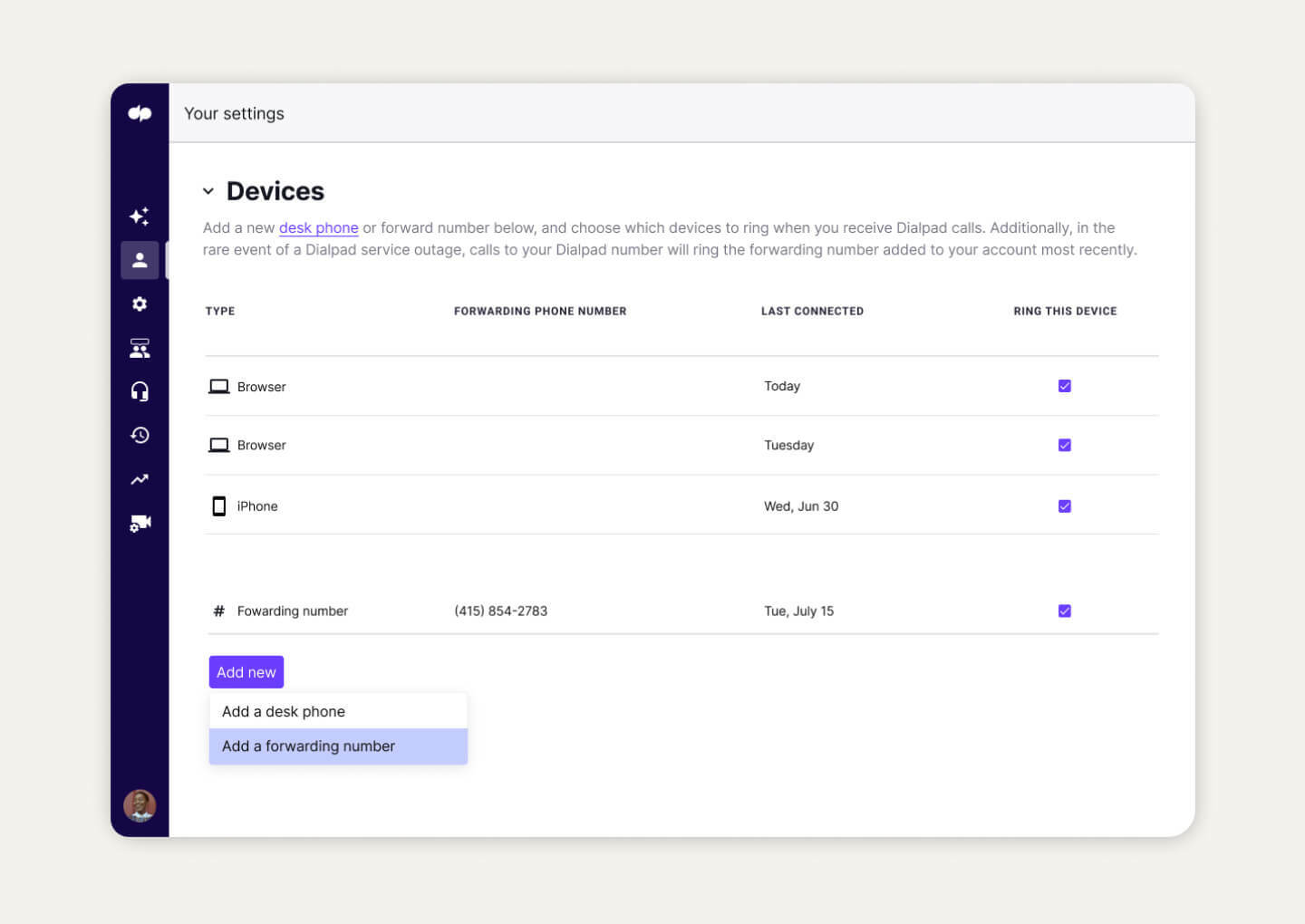 Scales as quickly as you do
Need to onboard a hundred virtual call center agents quickly to handle the busy season (or scale down your team)? Dialpad lets you set up agents in different time zones, add and remove users, manage call forwarding numbers, and more, all on your own in a few clicks.
Smart call routing
Getting a lot of inbound calls? Route callers to the best person based on availability and skill level with Dialpad. This not only helps create a positive experience for the customers, but also streamline agents' workflows. You can even create priority queues for VIP callers.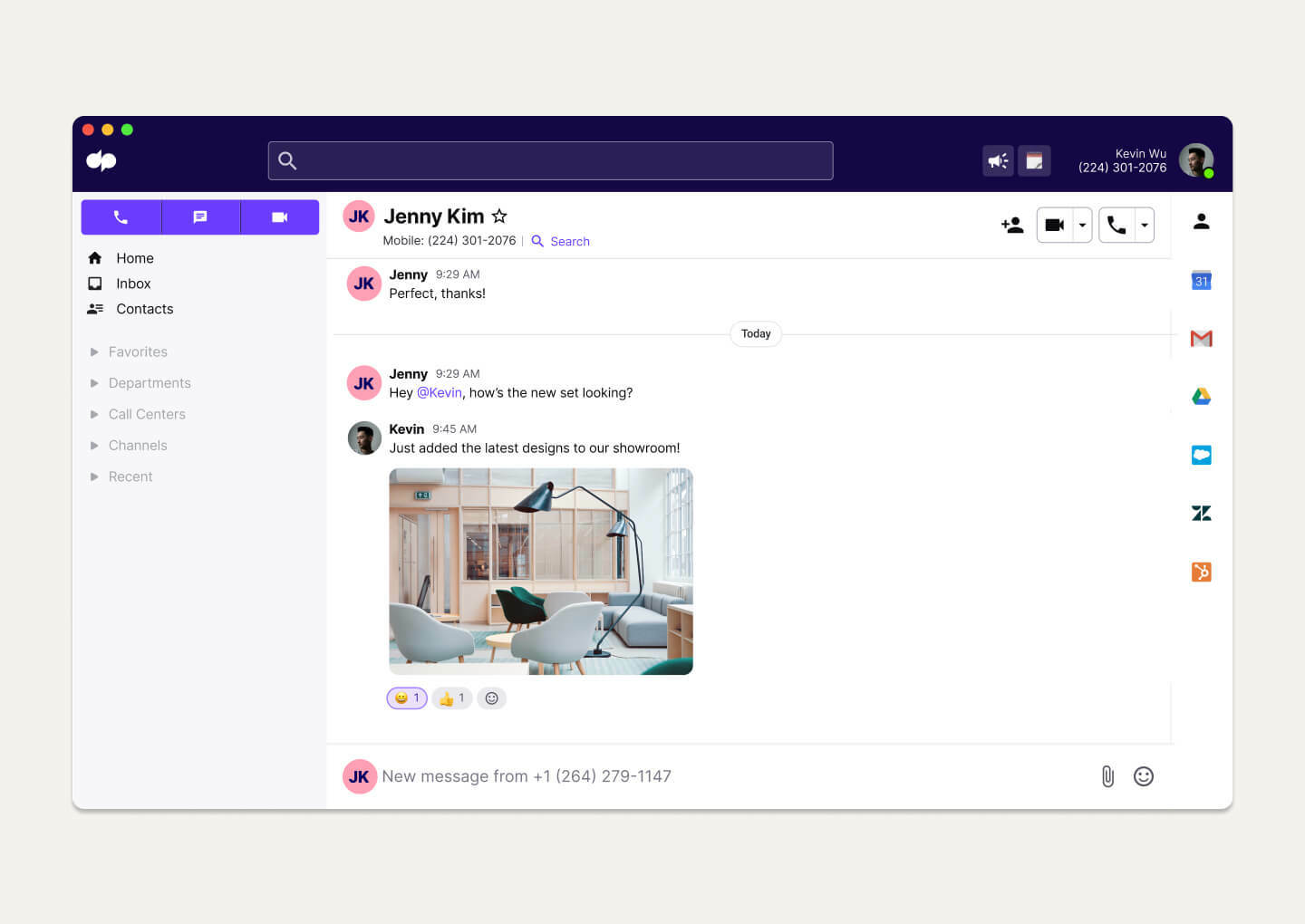 Cover both digital and voice channels
Whether you run an inbound call center or an outbound call center that focuses on sales calls, Dialpad will help you provide a stellar customer experience for customers across different channels. After all, a robust contact center experience encompasses not only phone calls but also video meetings, live chat, and more.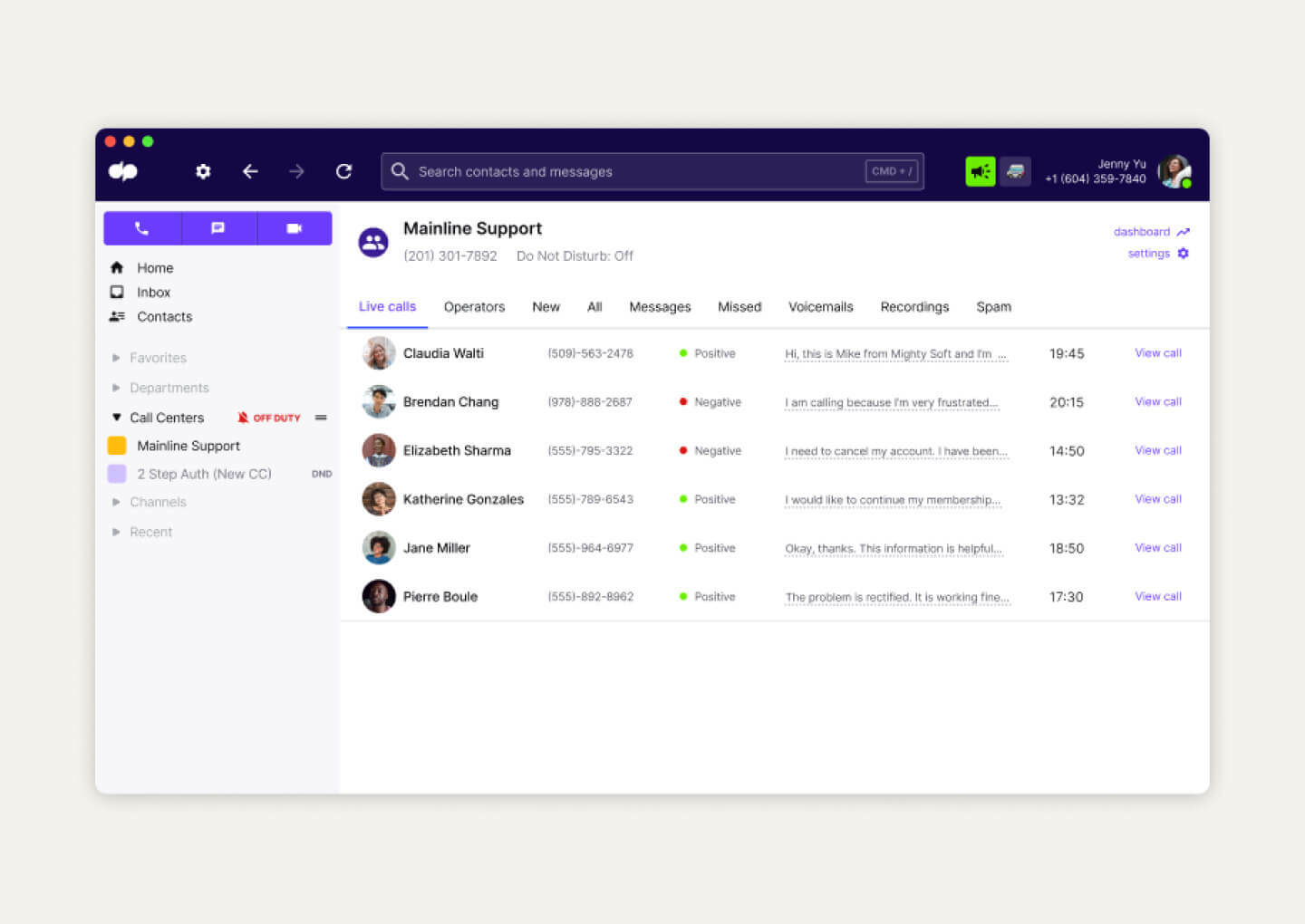 AI that creates super supervisors...
You can't personally coach every call. So how can a supervisor oversee 10 or 20 agents, or multiple teams effectively? Dialpad's Voice Intelligence (Vi) technology not only provides real-time transcriptions for calls, it also analyzes call sentiment, which allows supervisors to scan transcripts and keep an eye on how calls with all agents are going at all times.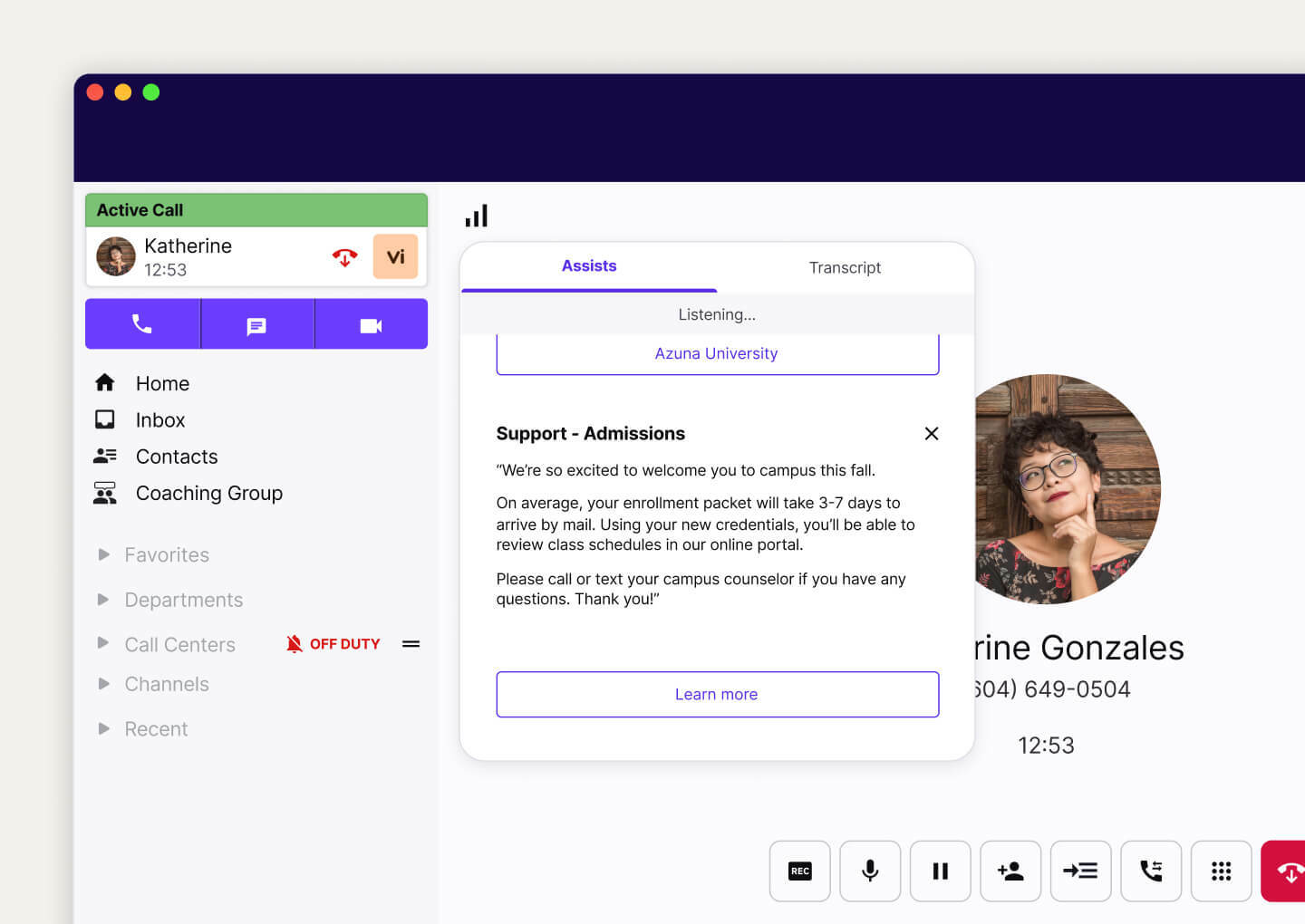 ... And super agents
Not every agent can know every single little thing and answer every challenging question they get. Dialpad's Vi also allows supervisors to create Real-time Assist (RTA) cards that pop up automatically on agents' screens when certain keywords or phrases are spoken to help them talk about complex topics! It's designed to help shorten onboarding time and empower training—at scale.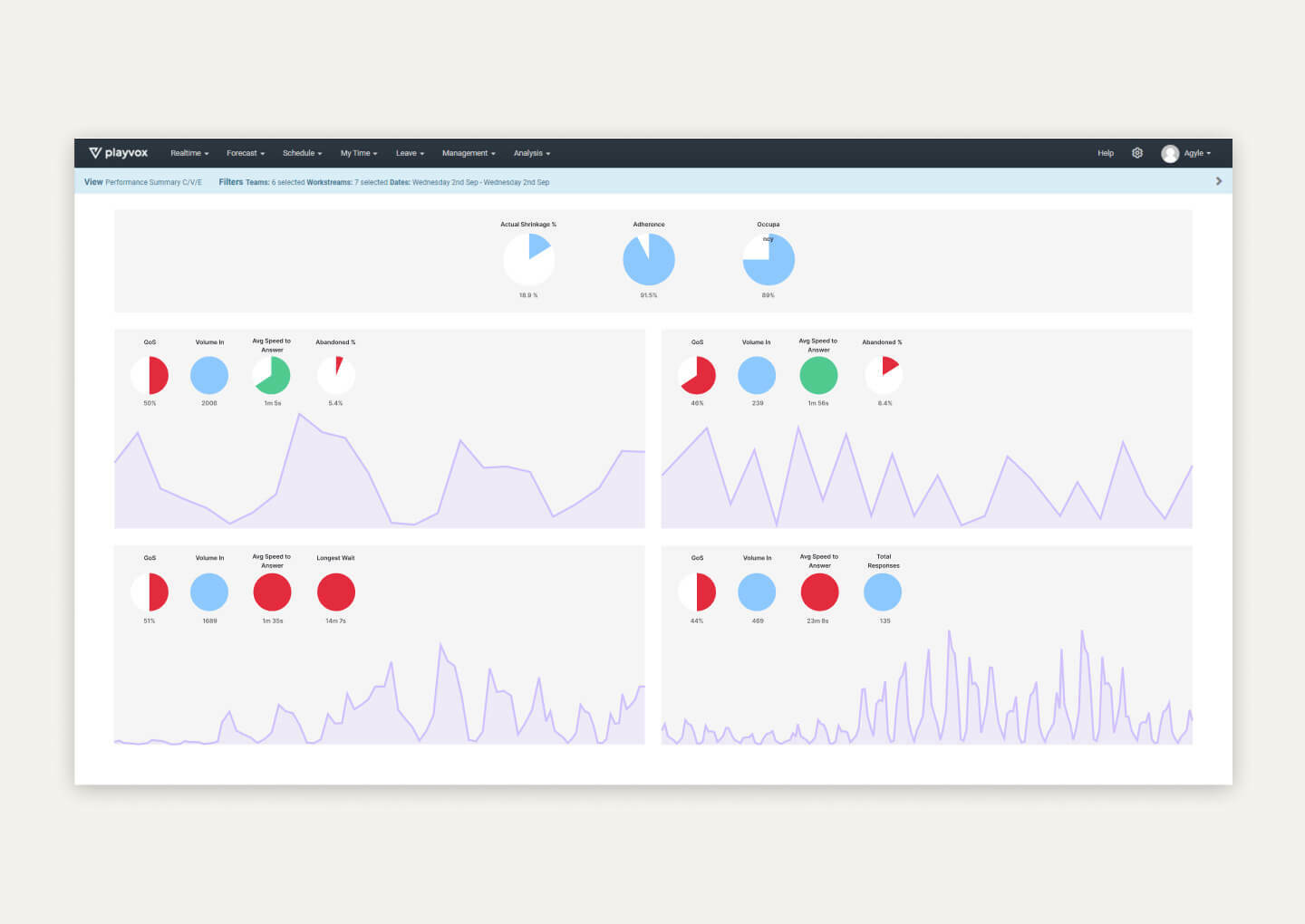 Advanced WEM capabilities
Get real-time agent forecasting, scheduling, quality management, and more—all in one fully integrated suite. With Dialpad + Playvox, you can turn support agent data and customer activity into easily digestible dashboards and give supervisors everything they need to maintain contact center performance.
Want to see how a virtual call center can work for you?
Get a product tour to get a walkthrough of how your team can use Dialpad Contact Center!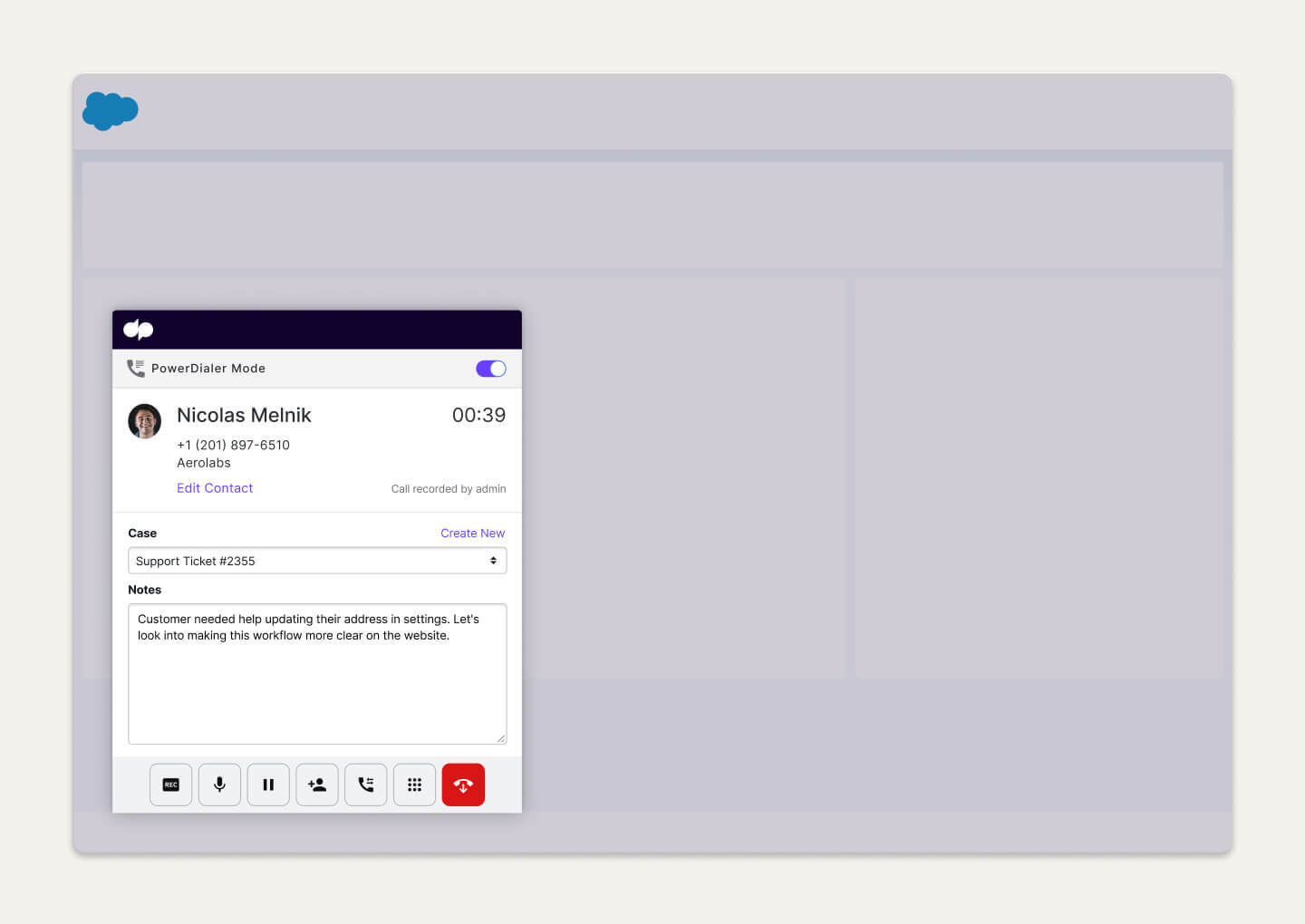 Integrations with your existing tools
Empower your agents to provide a consistently high level of customer care, no matter what tools they're using. From Zendesk to Intercom to Salesforce to Front, Dialpad integrates with most popular ticketing systems and CRMs to embed a dialer inside those platforms and streamline customer support agents' workflows across channels.
Real-time analytics
From call volume patterns to average speed to answer to hold queue metrics and more, Dialpad's easy-to-scan dashboards give you detailed insights into agent activity and performance.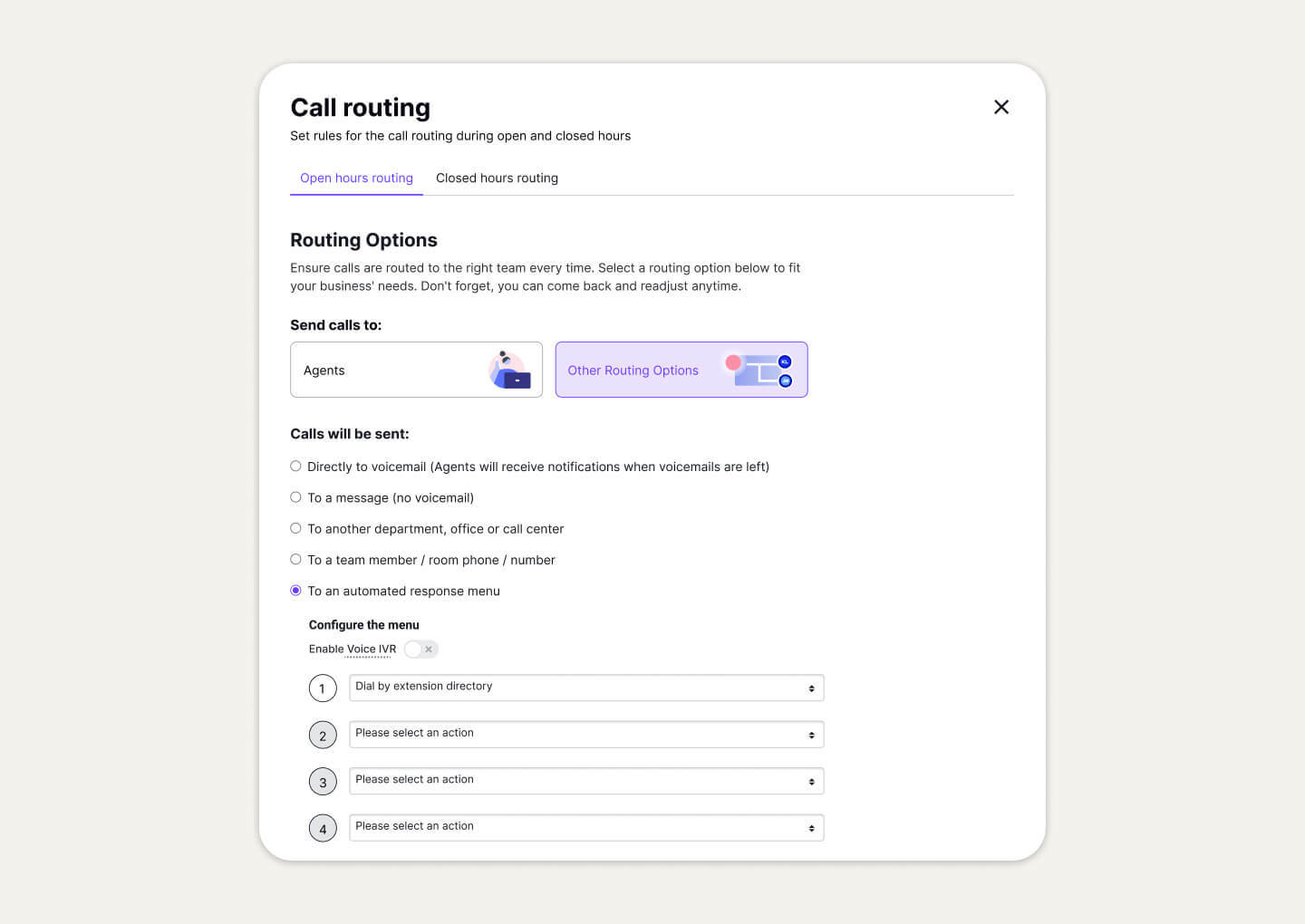 Easily customizable IVR
A good IVR (interactive voice response) or ACD (automatic call distributor) system is essential for any business that talks to customers on the phone. With Dialpad, you can customize your IVR menu to route incoming calls to the right customer service representative and provide callers with automated answers to basic questions.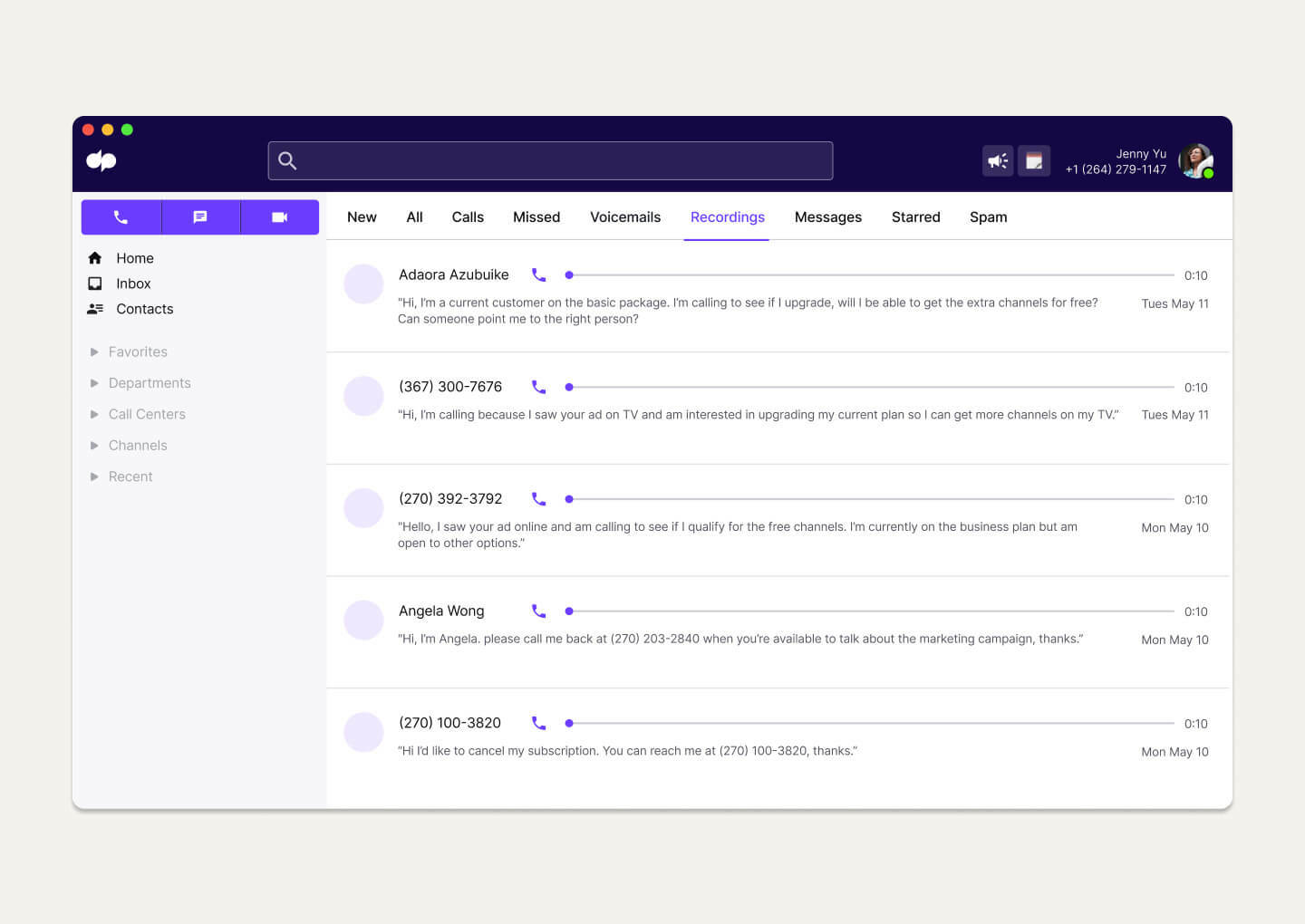 Call recordings and call logs
Call recordings are one of the best ways for agents to train themselves. Not only can Dialpad automatically record and store customer calls, it also lets you create "playlists" of the best (or worst) calls to use for more hands-off coaching.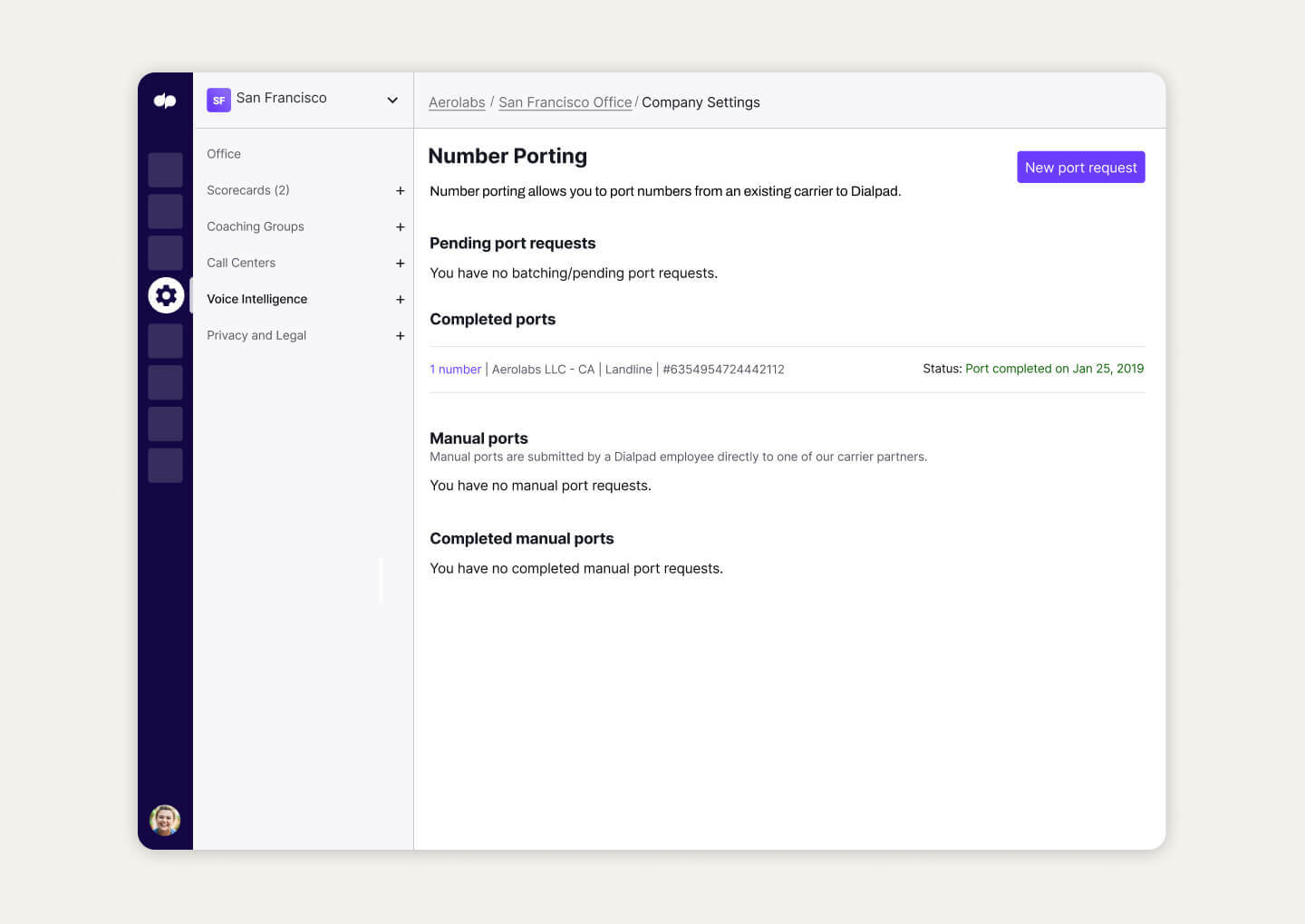 Cut down on upfront costs
With Dialpad's subscription-based payment model, you'll have access to a range of advanced contact center features at an affordable price. No clunky hardware, no expensive setup fees. We'll even help you port your existing numbers over.
Run your team of agents from anywhere with a cloud contact center
If your organization is ready to open up your hiring to include remote agents, then having virtual call center software is a must.
If you're managing instant messaging and other channels beyond phone calls, then you might consider a contact center platform instead.
Having the right software is essential to being able to do onboarding and training—and used together with self-service options, can help you provide excellent customer experience.

✒️ Grab the Contact Center RFP Checklist
Vetting different cloud contact center solutions? This RFP checklist covers the essentials to be aware of and why they may be important for your contact center.
See how a virtual contact center platform can work for you
Book a product tour to check out Dialpad Contact Center!
FAQS about virtual contact centers
Okay, so I don't need hardware—what other expenses should I be aware of when considering a cloud contact center?
Great question. There are other accessories that your work-from-anywhere call center representatives will need, like headsets (with microphone), office chairs, noise-cancelling headphones, and webcams. The most important thing though, is probably a good Internet or 5G connection.
How do I choose the best virtual call center software?
How is a virtual call center different from a traditional call center?
How does a virtual call center work?
How can virtual call center solutions improve the customer experience?
How can you transition from an on-premises to a virtual call center?