set up from anywhere
Cloud contact center software
Provide an incredible customer experience while managing your contact center or call center team from anywhere, with a flexible + robust cloud call center software. Book a product tour to see how Dialpad Contact Center can work for you!
What is a cloud contact center?
Cloud-based contact centers (formerly known as call centers, and sometimes also referred to as CCaaS, or "Contact Center as a Service") are essentially a type of software that stores data in the cloud and allows for customer communications over the Internet rather than relying on-premises hardware. (Using cloud platforms comes with quite a few benefits—more on that later.)

Provide a better customer experience with Dialpad Contact Center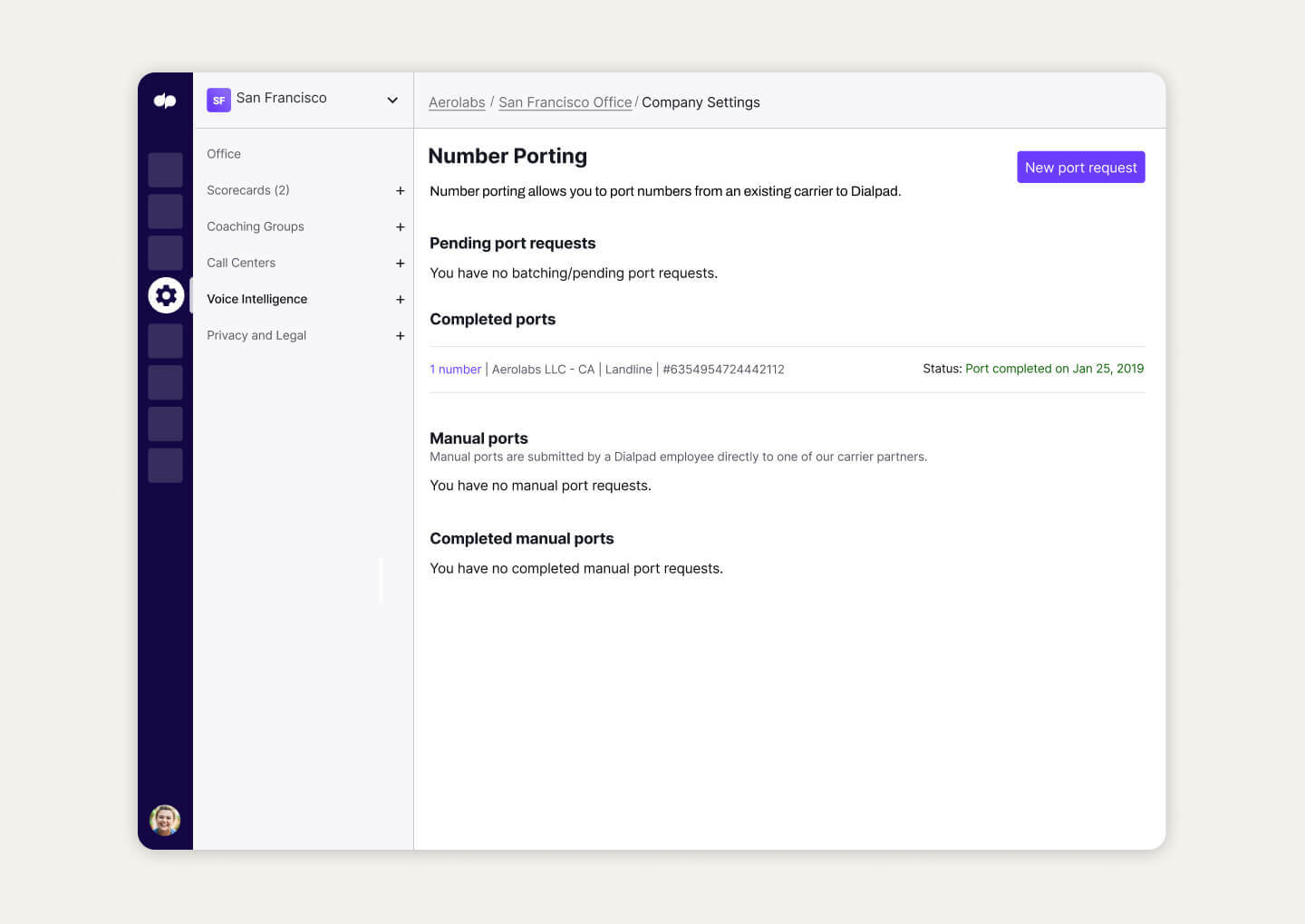 Massive scalability
Not only is Dialpad easy to set up and implement without needing any hardware, you can also easily add (and remove) contact center agents, manage their phone numbers, and more—all in your Dialpad account. No equipment to ship out, and no server closets or office space needed. We'll even help you port your existing numbers over.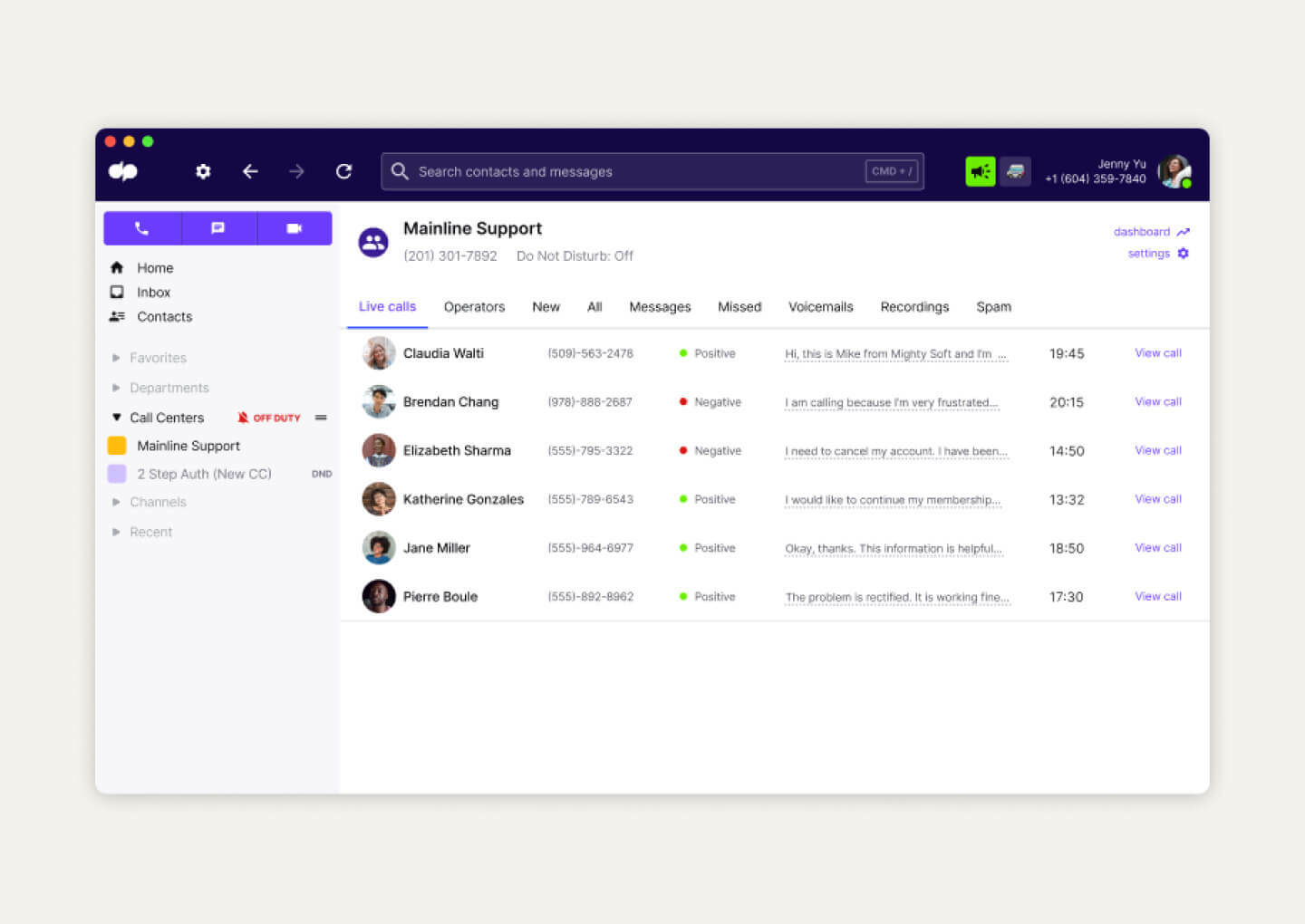 Tools for super-supervisors
You can't monitor every customer interaction in real time, but you can still help your agents provide a positive customer experience. Dialpad's unique artificial intelligence technology, Vi, not only transcribes calls (in real time!), it shows supervisors the sentiment for each active call. They can view all calls, see which ones have negative sentiment, and scan the live transcript to get full context before deciding whether to jump in.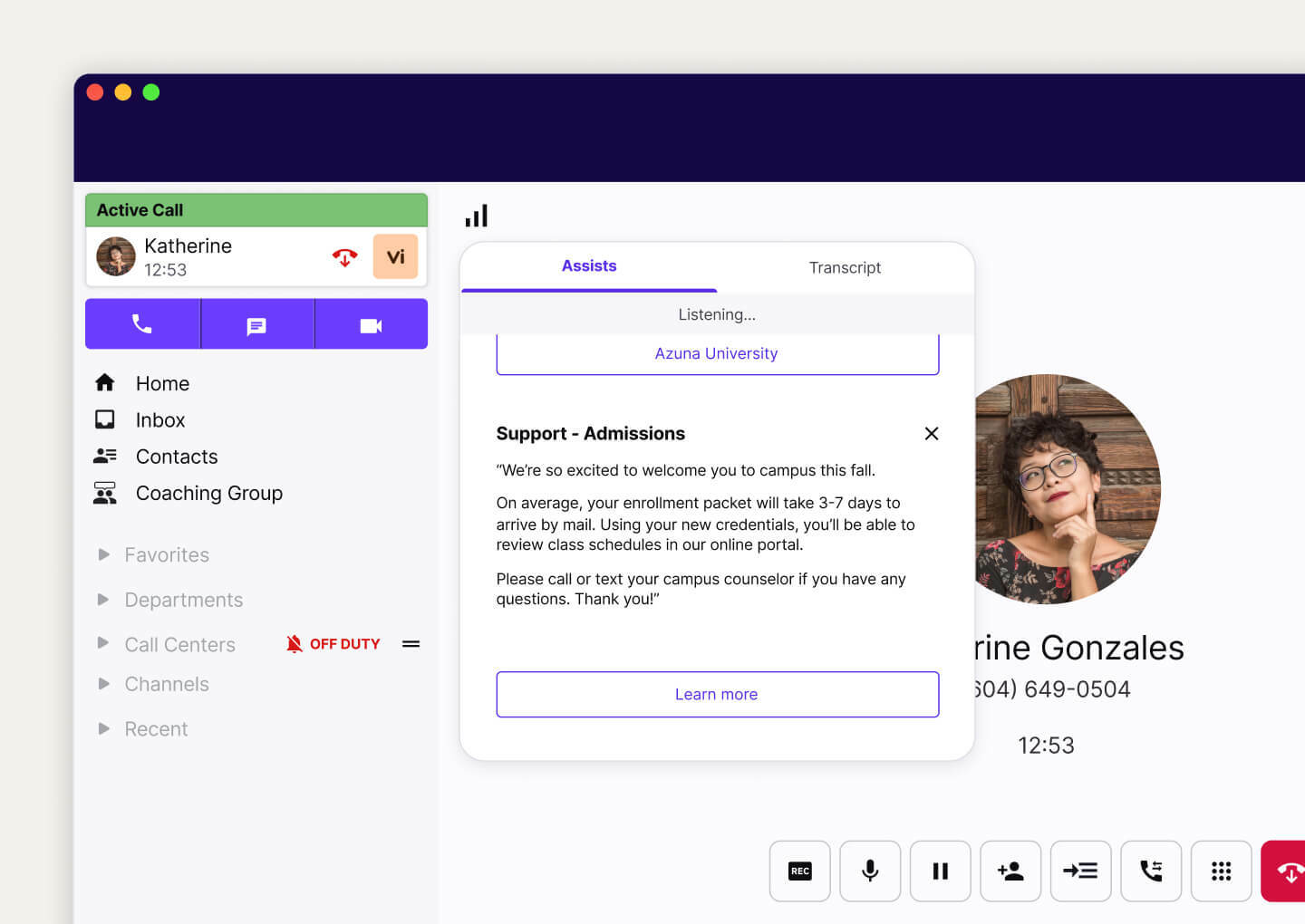 Real-time training—at scale
Dialpad's Vi can also automatically pop up Real-time Assist (RTA) cards when certain keywords are spoken on a call. Competitor names? Pricing questions? Refund requests? Supervisors can create RTA cards for all of these topics and more to empower agents—and create a better agent experience. It's basically an on-demand coaching feature!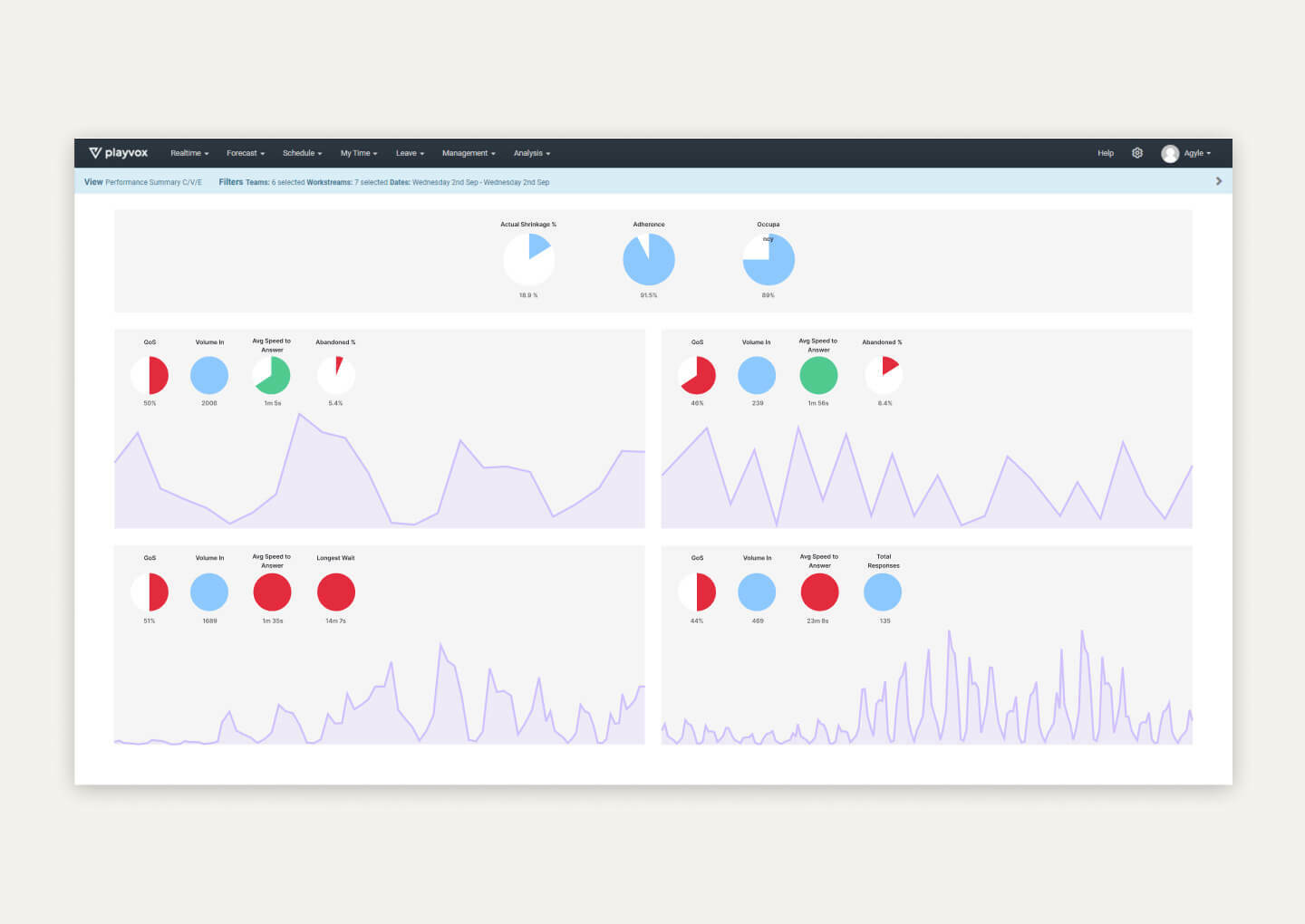 Advanced WEM capabilities
Get real-time agent forecasting, quality management, scheduling, and more features—all in one fully integrated suite. With Dialpad + Playvox, you can turn support agent data and customer activity into easily digestible dashboards and give supervisors everything they need to improve agent productivity and maintain contact center performance.
Looking for a cloud contact center solution?
Book a product tour of Dialpad Contact Center and see how it can work for you!
Higher reliability and call quality
Dialpad's global voice network minimizes downtime and ensures better quality for both inbound and outbound calls. In fact, the Enterprise plan comes with a 100% uptime SLA.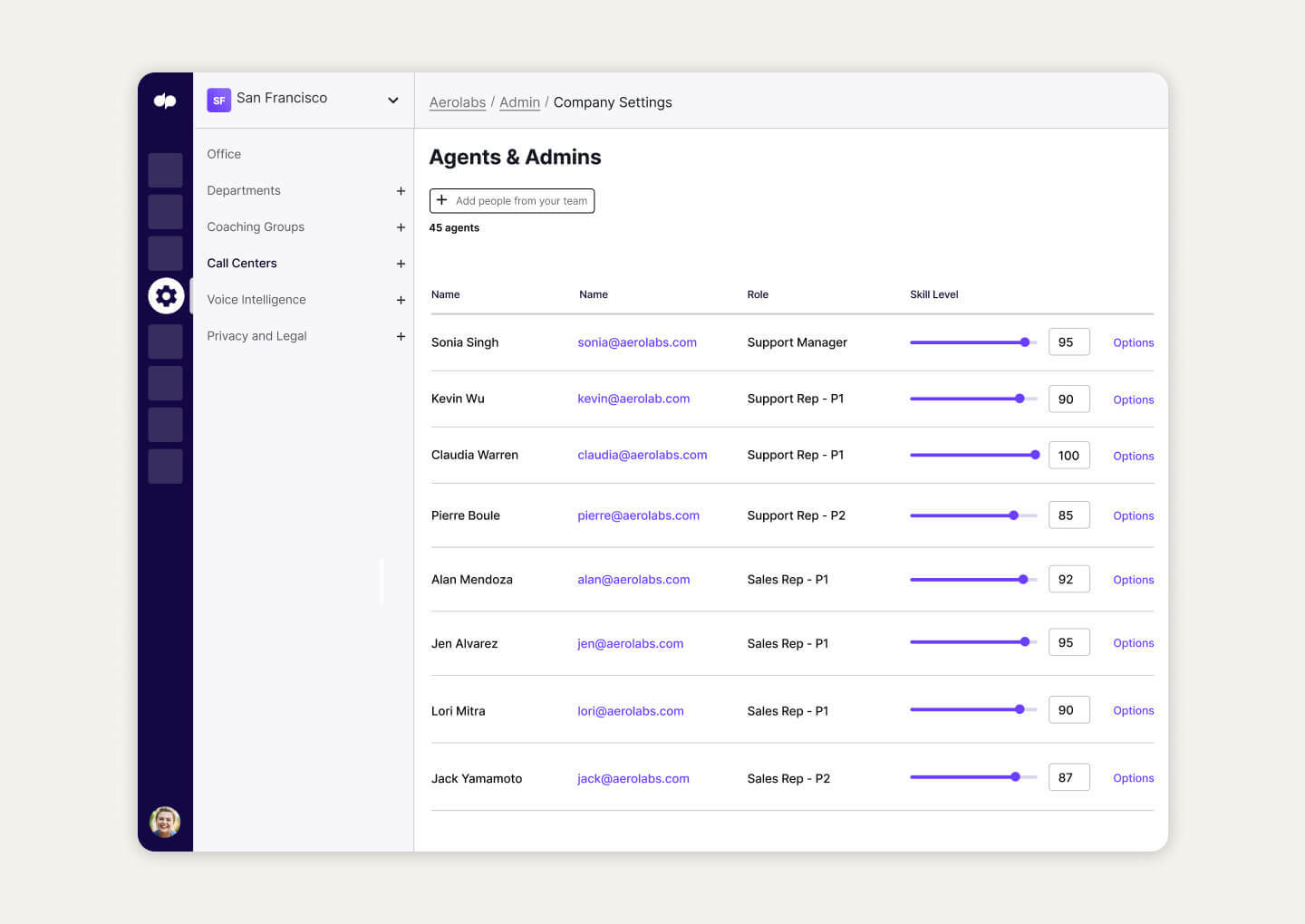 Greater cost efficiencies
Beyond the lower initial price tag, the total cost of ownership is also lower with cloud-based contact center solutions compared to traditional contact center technology. From hardware costs to setup and installation fees, to regular product updates, running a call center is typically much more budget-friendly with a cloud option. CCaaS solutions also have predictable, fixed pricing models and monthly or annual subscription fees.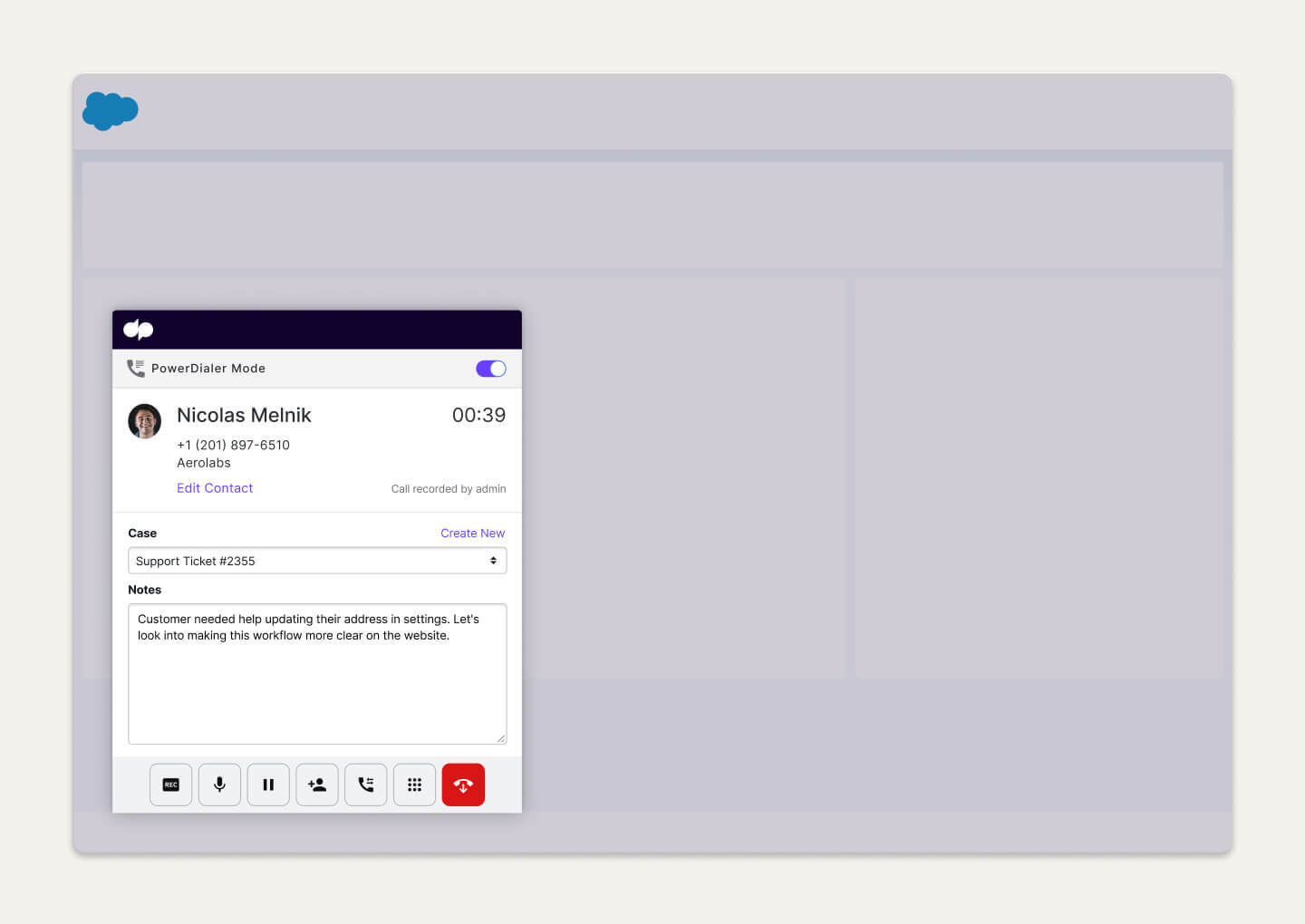 Integrations with tools you already use
Dialpad integrates with popular customer experience tools and CRMs like Zendesk, HubSpot, Intercom, Salesforce, and more to automatically log customer data and provide an embedded dialer for making calls without leaving those tools. Or, build your own custom automations with APIs and webhooks!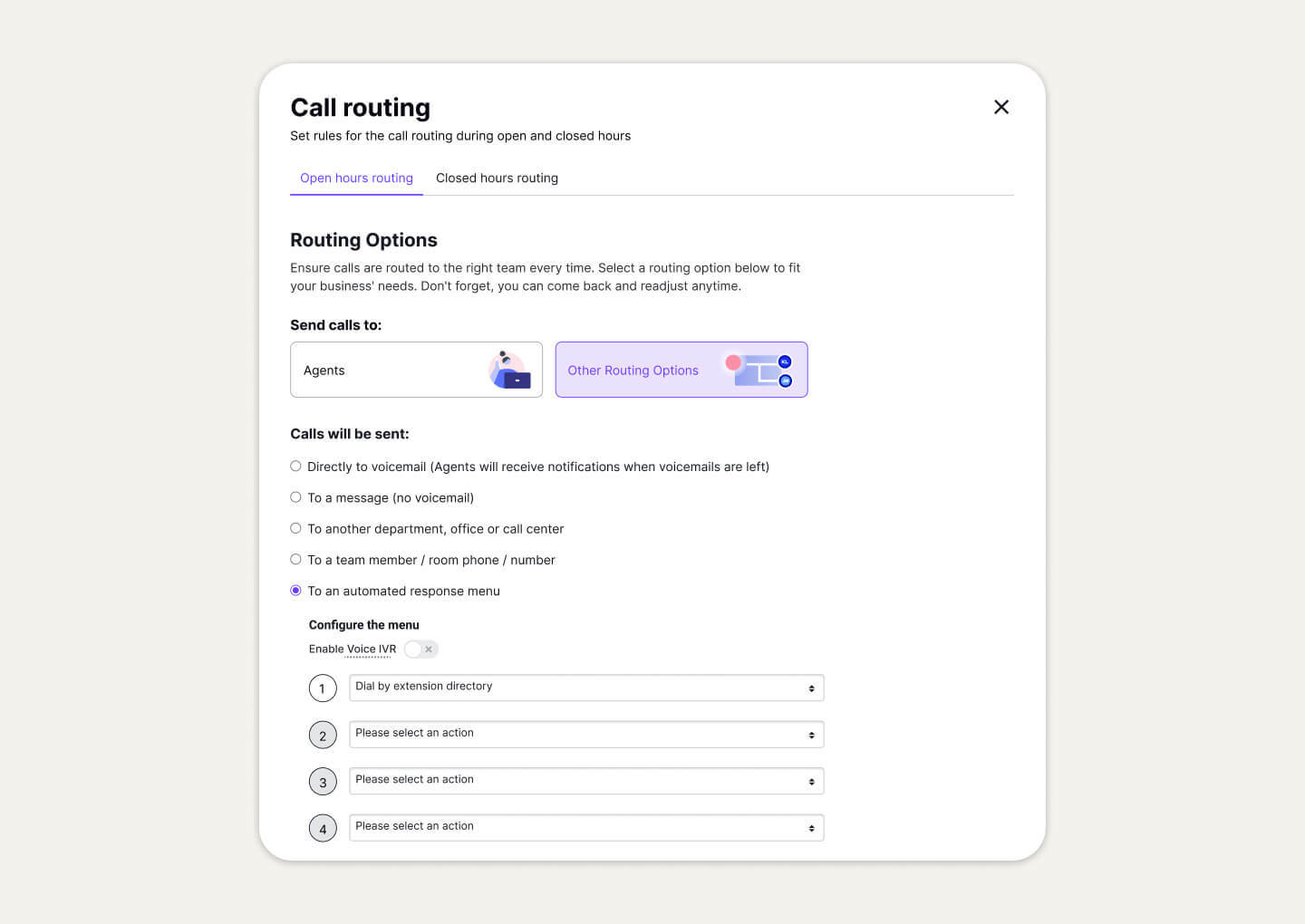 Call routing
With Dialpad's IVR (interactive voice response) feature, you can help your customers self-service and connect themselves to the right person or department quickly—just by setting intuitive routing rules for your IVR. Take that manual call routing work off your agents' hands (and give them more time to focus on improving customer satisfaction).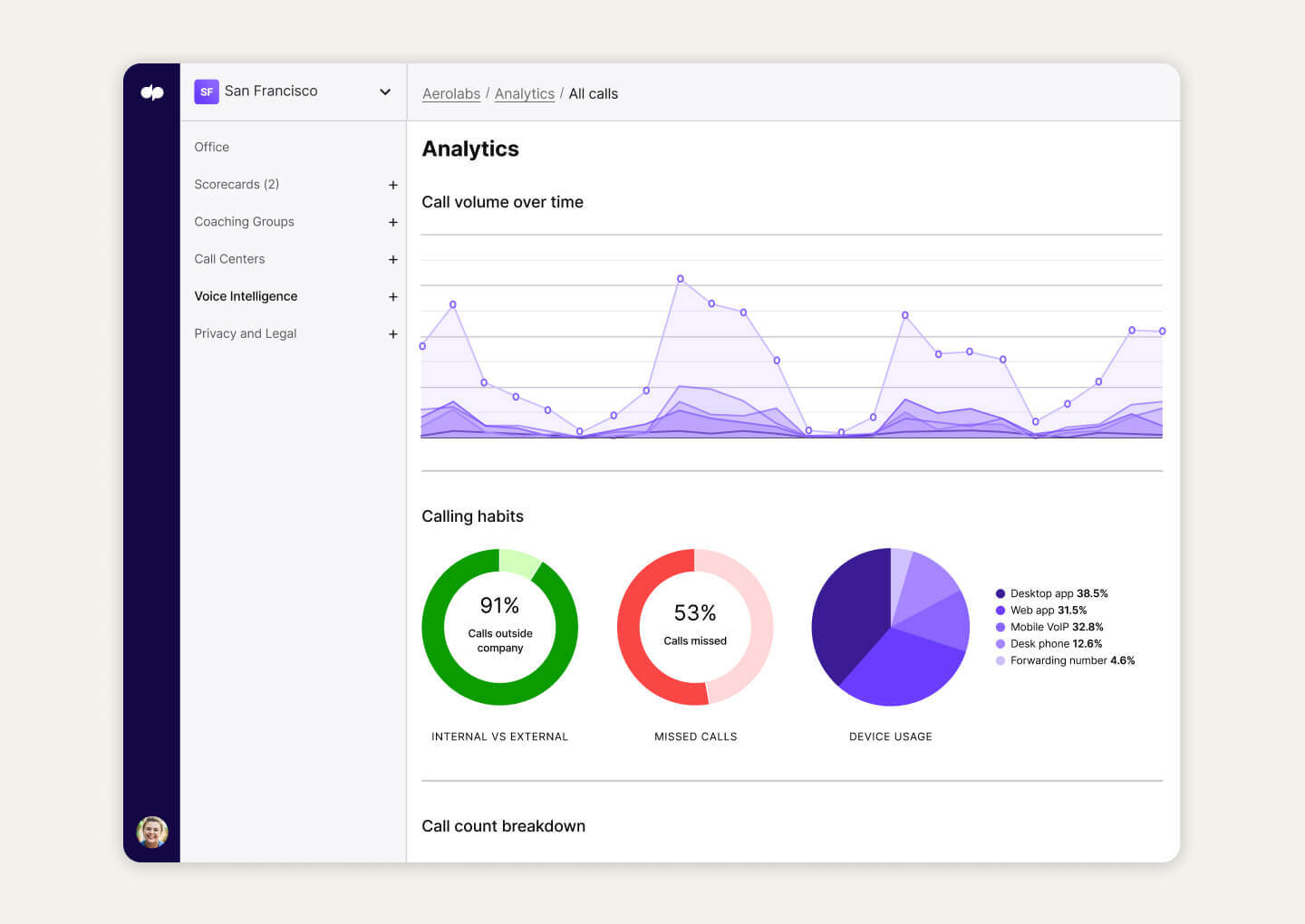 Call analytics and reporting
To make sure your call center performance keeps improving, having access to call analytics is key. In Dialpad, you can track metrics like call volume patterns and call times to continuously optimize every step of your customer journey as much as possible.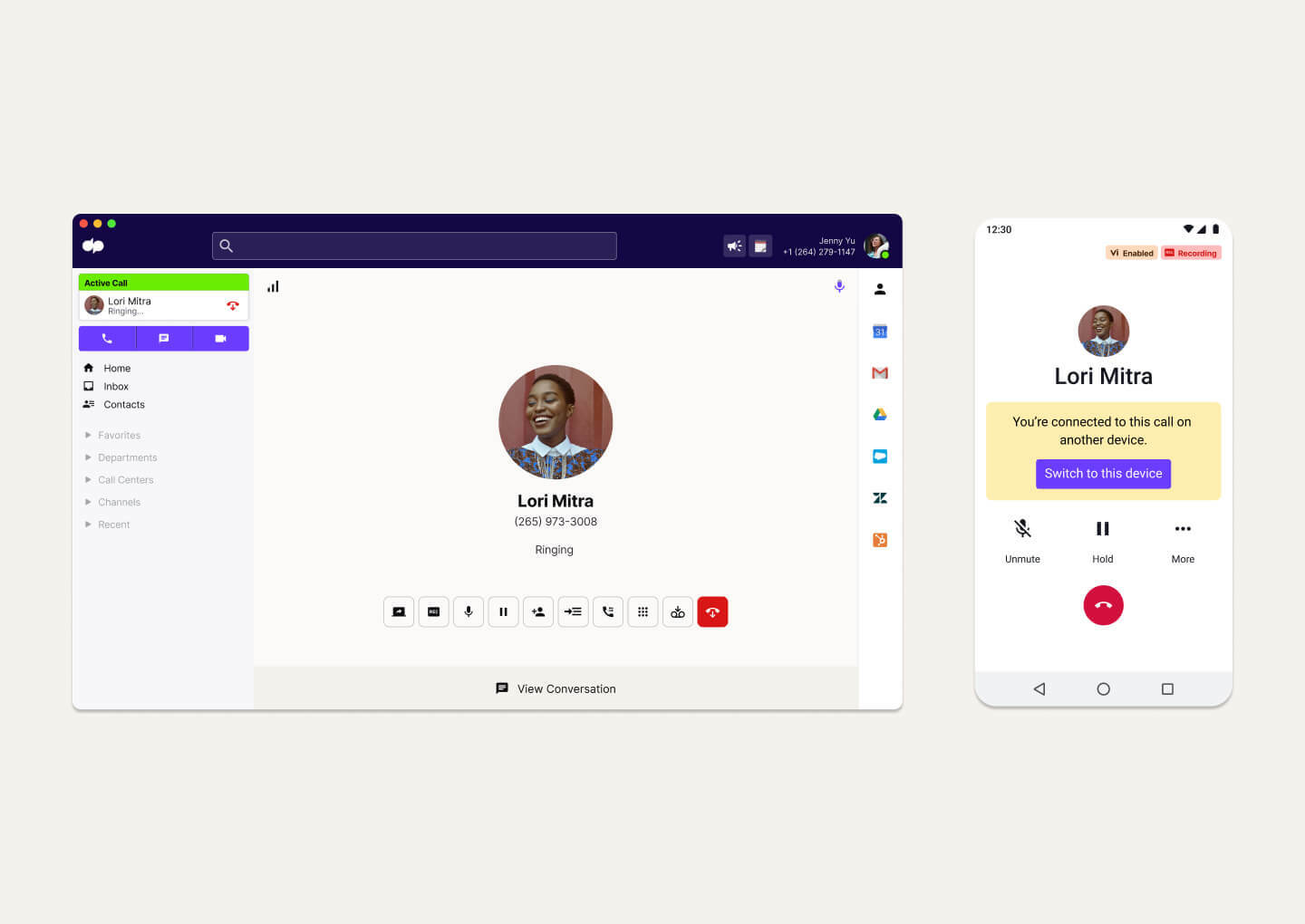 Any device, anywhere
One big cost-saving opportunity, if you're open to call center agents using their own devices, is allowing them to BYOD ("bring your own device"). Dialpad works across iOS, Android, PC, and Mac—and also works in web browsers—so supervisors and agents can work from anywhere on any device.
✒️ Grab the contact center RFP checklist
Vetting different contact center options? This RFP checklist covers the essentials to be aware of and why they may be important for your contact center.
Get started with a cloud contact center today
With a cloud contact center provider, you can empower your agents and supervisors to work from anywhere, with just an Internet connection and a computer (or a phone). Book a product tour of Dialpad Contact Center to see how it can work for your organization!
FAQs about cloud contact centers
How does a cloud contact center work?
A cloud contact center platform allows supervisors and agents to handle conversations across different communication channels. (Providers typically have their own data centers and use VoIP technology to allow phone calls to happen over the Internet.) It's an essential software for businesses that want to be able to hire agents in different places and adopt a true work-from-anywhere model of work.
What are the benefits of using a cloud-based contact center instead of an on-premises contact center?
How can using a cloud contact center platform improve a contact center's processes?
What core features should I look for in a cloud-based contact center?
How does a cloud contact center improve the customer experience?
How can a cloud contact center scale my workforce and improve agent performance?
Cloud-based contact centers sound like they're more for large organizations. Are they good for small businesses?